Vision, Mission, Tagline, Mottos
Mission
Assarel-Medet JSC Mining and Processing Complex is the first, biggest and leading Bulgarian company for mining and processing of copper and other types of ores providing more than 50 % of the national and about 0,5 % of the world production of the vital metal for the human development - copper.

Since its establishment in 1964 the company has traditionally been a pioneer in the country with regards to the implementation of new state-of-the-art equipment and technologies. It is an example for high corporate culture and a main agent for the social and economic development and the image of the municipality of Panagyurishte and the district of Pazardzhik. It has a structural-determining significance and a unique place in Bulgarian economy.

Assarel-Medet JSC's strategic objective is to achieve a low cost-price per unit of the produced high quality metal copper and respectively for the produced concentrate, involved products and services through efficient complex utilization of raw materials in the healthy, safe and environment friendly mining operations.
Vision
Assarel-Medet Mining and Processing Complex endeavours to achieve a dynamic, successful and sustainable corporate development, focusing upon good traditions, proactiveness, innovations and environment protection in a long-term plan.

The company will continue confirming its high prestige and leadership positions in the mining branch in the country and abroad by implementing and creating the best production and management practices in the future as well.
Our Mottos
"From Nature to people, from people to Nature"
"To start first means to be on time"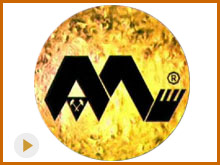 "Lights over the town" - a Film about the History of the Company